You might have heard of someone who becomes a millionaire because he had bought a few bitcoins back in the days when you were figuring life. That's true, bitcoin which has literally no value in 2009 has crossed $60,000 on 10 April 2021 just after the Coinbase debut IPO. Cryptocurrencies are mainstream now and it is changing the way we think about finance and the economy.
While India is still very unsure about crypto's future and still has not been able to make a decision on its acceptance or ban, crypto exchanges on the other hand have made significant growth in the country over the last few years. In this article, we will talk about the best crypto exchange and other cryptocurrency platforms in India.
What is a Crypto Exchange?
Crypto investors like you and me need a platform to trade Bitcoin and other cryptocurrencies and exchanges to provide this service. They help traders to keep a check on the fluctuating market values of cryptocurrencies and connect buyers and sellers to enable trading.
How does a Crypto Exchange work?
Almost all the crypto exchanges follow a similar basic layout. The crypto platforms connect the buyers and sellers willing to make a trade. We can have an overview of their functioning as:
To buy a bitcoin, you need to place an order at the price you wish to purchase.
Now, to sell a bitcoin, a seller will have to place an order to sell his bitcoin.
If both your and the seller's price offering is the same, then the exchange connects you to the seller (in the backend), and the trade succeeds.
Exchanges take their commission on every trade that is successful.
If you want to begin your trading journey, we have listed some of the best trading platforms in India -
Best Crypto exchanges in India
Here are the top bitcoin exchanges in India.
1. WazirX
WazirX is no doubt the best crypto trading platform in India. It is the brainchild of Nischal Shetty and is functioning since 2017. It is considered the most used trading exchange by Indians. I myself have my trading account on WazirX.
Apart from providing a crypto exchange for traders and WazirX also supports P2P exchanges. It is available on all devices, including laptops, MacBook, iPhone, and Android.
WazirX was recently acquired by the most prominent trading platform in the world, Binance.
Security
WazirX offers two-factor authentication for every login. They notify via mail and from the notifications tab of mobile for every trade completing a successful exchange. It also provides you with an app lock to prevent access to your wallet by an intruder. They also store the majority of cryptocurrencies in cold storage.
Fee
WazirX charges a fee of 0.2% as a maker and taker fee. They do not charge any fee on depositing a cryptocurrency. However, they do charge a small fee on bank transfers. In the case of withdrawals, they charge 0.0005 BTC per BTC withdrawal and no INR withdrawal fee.
Payment methods
WazirX accepts a deposit in cryptocurrencies, bank transfer, NEFT & RTGS, IMPS, and UPI. However, there's a fee of INR 5.9 on bank transfers or NEFT, whereas there are almost no charges for UPI transactions.
Apart from all this, WazirX also has its own crypto token named WRX that powers the platform and also provides discounts on trading fees when it is used to pay trading fees. WazirX also provides 50% commission referrals that means you can invite your friends and earn a commission when they trade. This has been one of the reasons for WazirX success and adoption among users. WazirX is also the only platform that has launched an NFT marketplace for Indian artists.
2. CoinDCX
Launched on April 8th, 2018, CoinDCX is built with an aim to provide a user-friendly experience where users can trade 100+ cryptocurrencies. It has significant investment from Coinbase and is considered India's biggest crypto exchange platform with 1L+ active monthly users and over $40M daily trading volume. CoinDCX was started by Sumit Gupta and raised over $15M funding from leading investors so far.
CoinDCX provides a fiat on-ramp to its users and trading, but it provides other basic services as well. It enables lending, trading on margin, and the ability to stake cryptocurrencies that earn rewards for doing so.
Security
They only have 5% of the total cryptocurrencies of their users in Hot wallets. All of your personal information is secure, and not even an internal member has access to them. CoinDCX also provides you with two-factor authentication and also a notification for every exchange in the process. They even provide you with insurance by Bitgo, which will cover your losses in case of any security breach.
Fee
CoinDCX charges a fee on bank deposits. However, they charge no or a minimal fee on UPI deposits. They charge you a 0.1% taker fee and a 0.1% maker fee, which is less when compared to their competitors.
Payment methods
You can deposit either INR or a cryptocurrency to begin trading. They allow you to deposit INR through bank transfers, net banking, NEFT/RTGS, IMPS, and UPI.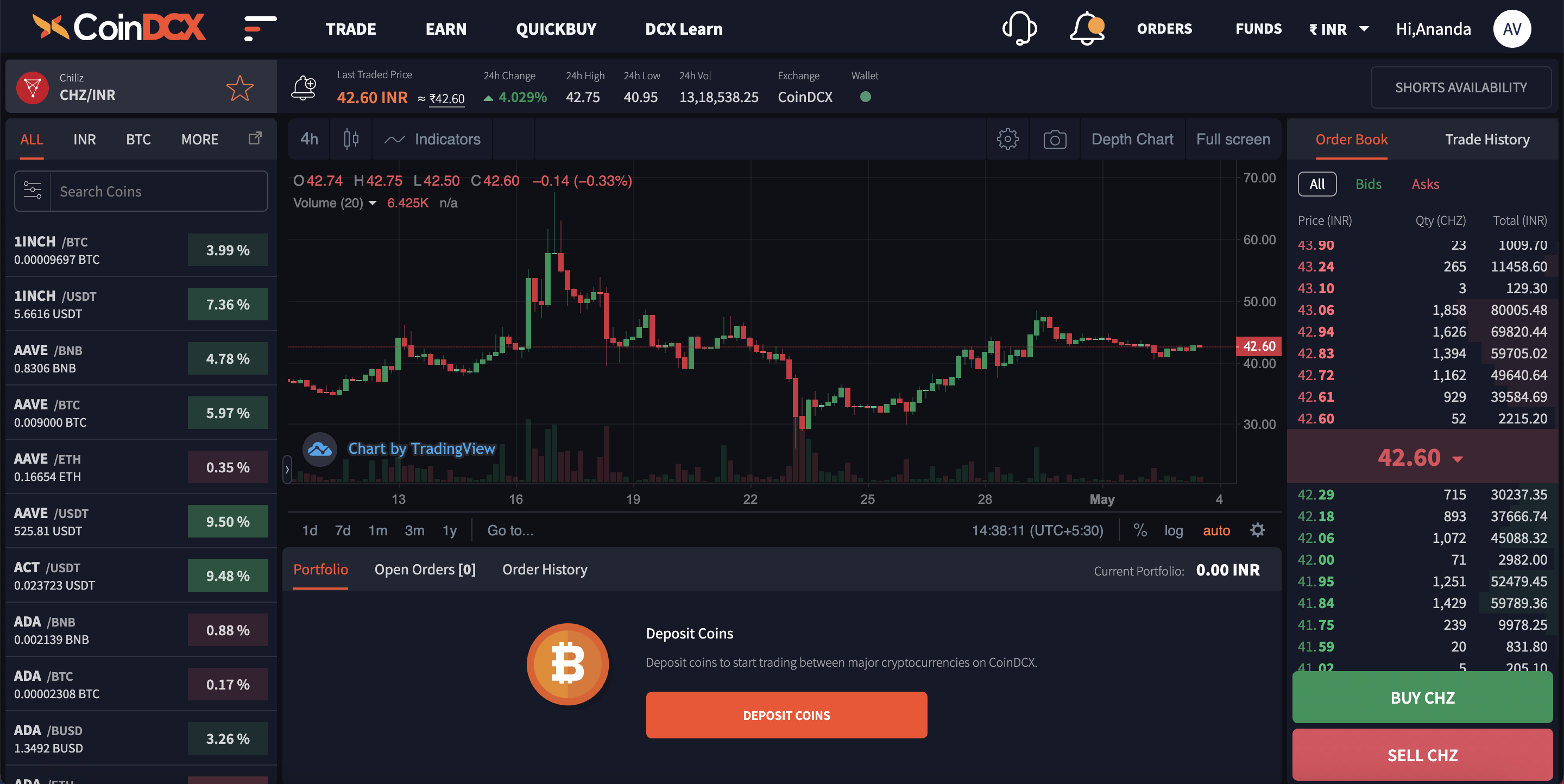 3. CoinSwitch Kuber
CoinSwitch Kuber is a customer-centric crypto trading platform. You can get all your queries and issues sorted with their customer support team almost instantly. 3M+ Indians are using their platform and have carried out ₹500 crores in trade to this date. CoinSwitch Kuber gives its users access to the pooled liquidity of the leading cryptocurrency exchanges in India to get the best rate and trade instantaneously.
The latest funding round of $25M from Tiger Global makes CoinSwitch Kuber the most valuable crypto exchange in India with a valuation roaring at $500M. CoinSwitch Kuber had earlier raised $15 million in Series A funding in January from Ribbit Capital and San-Francisco-based Paradigm. Its existing investors include Sequoia Capital India and CRED founder Kunal Shah.
Security
It is reasonably safe because you do not store your funds on CoinSwitch. On the website, you can only buy and convert coins in real-time. It does not keep your money for trading purposes and the risk of fraud is minimised because it does not keep your funds.
CoinSwitch appears to have a number of appealing features. It offers its users price data from around nine cryptocurrency exchanges as a cryptocurrency exchange aggregator. Coins are converted and directly transferred to users' wallets. Its anonymity feature makes it an appealing choice for investors who want to remain anonymous.
Fee
CoinSwitch charges a fee of 0% to 0.49% depending on the exchange you select for your transaction. The conversion rate you see is inclusive of the fees.
Payment Methods
CoinSwitch Kuber offer a wallet where you can deposit INR and use that to trade cryptocurrency. You can deposit a minimum of 100 INR to start with. The available methods are Bank Transfer and UPI. There is zero fees to deposit funds in CoinSwitch wallet.
CoinSwitch Kuber only has iOS and Android app and doesn't offer desktop or web version for trading.
4. BuyUCoin
BuyUcoin is a product of three Indian brains Shivam, Atulya, and Devesh, and is running since 2016. You can use BuyUcoin to trade bitcoin and other major cryptocurrencies. They also provide services to hold or store your Bitcoin in their wallets.
They are one of the best platforms for trading. However, Shinyhunters hacked them in January of 2021, which led to a breach and loss of 325k users' private data leaving them as a weak exchange for security reasons.
Security
BuyUcoin encrypts users' passwords using the Salting algorithm, preventing access to the data. They store 95% of funds in cold offline storage. They also provide two-factor authentication and offer a mobile application. However, the mobile app has a rating of 1.9/5 on the google play store.
Fee
They are also not the best when it comes to various fees. They charge a deposit fee, which depends on their banking partner, a maker/taker fee of 0.24%, and a NIL OTC fee.
Payment Method
BuyUcoin accepts payments through debit cards, credit cards, NEFT & RTGS, net banking, and UPI. You can also connect your Mobikwik wallet and deposit through it in the BuyUcoin wallet.
5. UnoCoin
Unocoin is one of the oldest cryptocurrency exchanges in India. They provide a device-independent trading platform and account for over a million traders alone through the mobile application.
Security
They store most of the traders' assets in cold storage vaults. The addresses of these offline storages generate in a computer that will never connect to the internet in its lifetime. Apart from this, Unocoin provides two-factor authentication, and you can lock your mobile application with fingerprint protection.
Fee
The exchange charges a 0.7% fee on Bitcoin exchanges, and on reaching the gold membership, it reduces to 0.5%. Whereas on withdrawing a bitcoin, Unocoin charges a fee of 0.0005% per BTC.
Unocoin also charges a maker fee of 0.4% and a taker fee of 0.6%, apart from the 18% government charges on transaction fees.
Payment Method
For a withdrawal, Unocoin transfers the amount directly to your bank account through NEFT or bank transfer. However, you can use Mobikwik wallet, debit/credit cards, bank transfer, and UPI for making deposits.
Cryptocurrencies are very exciting but also very volatile when it comes to investment. Please make sure you read enough before investing.