Blockchain analysis and surveillance tools provide compliance solutions and cryptocurrency investigation services to institutions, governments, and other law enforcement agencies. These tools monitor addresses, transactions and also identify blockchain codebase vulnerabilities.
What is blockchain analysis and surveillance?
In the early days of blockchain development, you would have never heard of anything like blockchain surveillance. With the growth of the blockchain ecosystem and cryptocurrency market, it became important for the government, law enforcement agencies as well as institutions to track various activities on blockchain to identify fraud and detect vulnerabilities in the system.
Multiple companies have started in the last few years offering services like chain analytics, monitoring, and identifying blockchain codebase vulnerabilities. A number of firms have worked with law enforcement in the U.S. and also have contracts with groups like Europol as well. Many of these companies also put out research reports on the data they discover during exchange hack investigations and other types of crypto scams.
Also read - 10 best crypto visualisation and charting tools for crypto traders in 2021
Top blockchain analysis and surveillance tools
As of today, there are more than 20 different firms that offer blockchain analysis and surveillance to their customers. Some of them are well-known platforms like Chainalysis, Ciphertrace, and Elliptic. Other notable platforms include Anchain, Crystal Blockchain, Intotheblock, Certik, Coinfirm, Soliduslabs, Trmlabs, Uppsalasecurity, etc.
1. Chainalysis
Chainanalysis is the most notable company in this space. It was founded by Jan Moller, Jonathan Levin, and Michael Gronager on October 1, 2014. Chainanalysis provide data, software, services, and research to government agencies, exchanges, financial institutions, and insurance and cybersecurity companies all around the world. The data platform built by Chainanalysis, powers investigation, compliance, and risk management tools that have been used to solve some of the world's most high-profile cybercrime cases and grow consumer access to cryptocurrency safely. Different product and service offered by Chainanalysis is given below -
Chainalysis Business Data - Provides an additional layer of customer intelligence to cryptocurrency businesses, helping them to better understand customers, tailor product offerings, and identify new revenue streams.
Chainalysis KYT - KYT (Know Your Transaction) combines industry-leading blockchain intelligence, an easy-to-use interface, and a real-time API to reduce manual workflows while helping cryptocurrency businesses comply with local and global regulations.
Chainalysis Kryptos - Provides complete profiles of cryptocurrency businesses based on the industry's most trusted blockchain data.
Chainalysis Market Intel - Provides real-world data and the unique insights needed to conduct cryptocurrency research and make investment decisions.
Chainalysis Reactor - Investigation software that connects cryptocurrency transactions to real-world entities, enabling you to combat criminal activity on the blockchain.
2. Ciphertrace
CipherTrace is a compliance pro solution that delivers cryptocurrency AML compliance solutions for some of the largest banks, exchanges, and other financial institutions in the world. It has one of the best data attribution, analytics, proprietary clustering algorithms that coverage of 2,000+ cryptocurrencies in the world. Different product and service offered by CipherTrace is given below -
Cryptocurrency Compliance - Provides protection from money laundering risks, illicit money service businesses, and virtual currency payment risks to banks, card issuers, and payment processors.
Anti-money laundering - Provides KYT: Know Your Transaction service that automates Crypto AML compliance for virtual asset service providers like exchanges, funds, trading desks, and custody providers.
Financial Investigations - Provides powerful blockchain forensic tools that enable investigations of criminal activity, fraud, and sanctions evasion.
3. Elliptic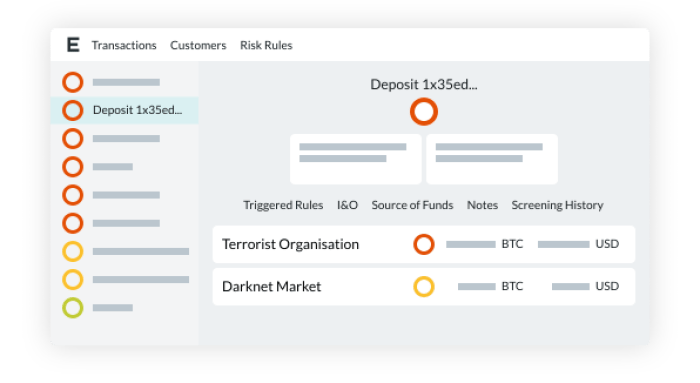 Elliptic provides blockchain analytics for more than 100 cryptoassets. The 10 billion+ data points captured by the platform provide accurate and actionable insights to businesses so that they can mitigate risk and be compliant. Elliptic's crypto compliance solutions and services are used by crypto businesses, financial institutions, and regulators to detect and prevent financial crime in cryptoassets. Different product and service offered by Elliptic is given below -
Crypto Wallet Screening - Provides risk assessment of crypto wallets in real-time. You can obtain accurate insights with minimal effort and understand who you're transacting with to comply with sanctions regulations and reduce fraud.
Crypto Transaction Monitoring - Provides a simple-to-use mechanism to screen crypto transactions for any associated risk. It also automates AML/CFT and sanctions checks to empower the compliance team to spend their time where it's needed most. Useful in uncovering links to money laundering, terrorist financing, and sanctioned entities.
VASP Screening - This service helps customers to understand the risk profile of Virtual Asset Service Providers (VASPs), such as exchanges when evaluating them as customers or counterparties.
Crypto Investigations - This service helps visualize and explore cryptoasset wallets and transactions and investigate customer activity and "follow the money" in crypto.
Other notable firms include Anchain.ai, Crystal Blockchain, Intotheblock, Certik, Coinfirm, Soliduslabs, Trmlabs, Uppsalasecurity, etc.