Any activities carried out on crypto blockchains are known as transactions, which occur when cryptocurrencies are sent to and from wallet addresses. Each transaction is recorded onto a digital ledger, known as a blockchain. Blocks on the blockchain are collections of transactions that were processed and approved by a group of third parties known as miners (for most Proof-of-Work cryptocurrencies).
A block explorer is a user interface or tool that allows you to interact with blockchains and view transactional data on a network. e.g. If you send a friend Bitcoin, or a friend sent you Bitcoin, you can actually check on the status of that transaction by typing in your Bitcoin wallet (public) address or transaction ID. From here you will see if it has been sent, how many confirmations the transaction has, and if it has been delivered to the recipient.
You can also think of block explorer as a blockchain search engine that helps you search for a particular piece of information on the blockchain. Block explorer is a window into the blockchain world, giving you the opportunity to observe what's happening on it.
There are a lot more info that a block explorer can provide:
The number of outstanding and past transactions on the network
the current network hash rate
The current block height
Transaction sizes
Largest wallets, number of coin holders
The best blockchain explorers in the market
Blockchain.com
Blockchain.com's block explorer can access data on BTC, ETH, and BCH's blockchain. It provides you various information including historical prices, the most recently mined blocks, the mempool size of unconfirmed transactions, and data for the latest transactions etc. Next time you take part in a transaction, use blockchain.com to gain peace of mind that the transaction is sent and it's pending on the network. It will save you lots of stress.
Etherscan
Etherscan is the goto block explorer for Ethereum and ERC-20 tokens. Here you can check on your transactions, as well as view network hashrate, current block height, block data, market cap, and more. If you are sending Ether transactions or simply want to check on the network status, Etherscan is the way to go.
Built and launched in 2015 Etherscan is one of the earliest and longest running independent project built around Ethereum and its community with the mission of providing equitable access to blockchain data. Apart from block explorer service, etherscan also provides search, API and analytics platform for Ethereum blockchain network.
CoinMarketCap block explorer
CoinMarketCap is the world's most-referenced price-tracking website for cryptocurrencies. CoinMarketCap's block explorer currently has indices for Bitcoin, Ethereum Binance Coin, and Litecoin, which form the basis of learning how to navigate and comprehend the data for other blockchains. They will be adding more cryptocurrencies and functionalities to their block explorer, so you can explore real-time blockchain data and perform more in-depth analyses.
CoinMarketCap's block explorer visually displays block activity as it is confirmed in real-time, which allows users to take a more engaging approach to the data. They can look up a particular block number, and inspect it at another level by viewing address and transaction details that make up a block.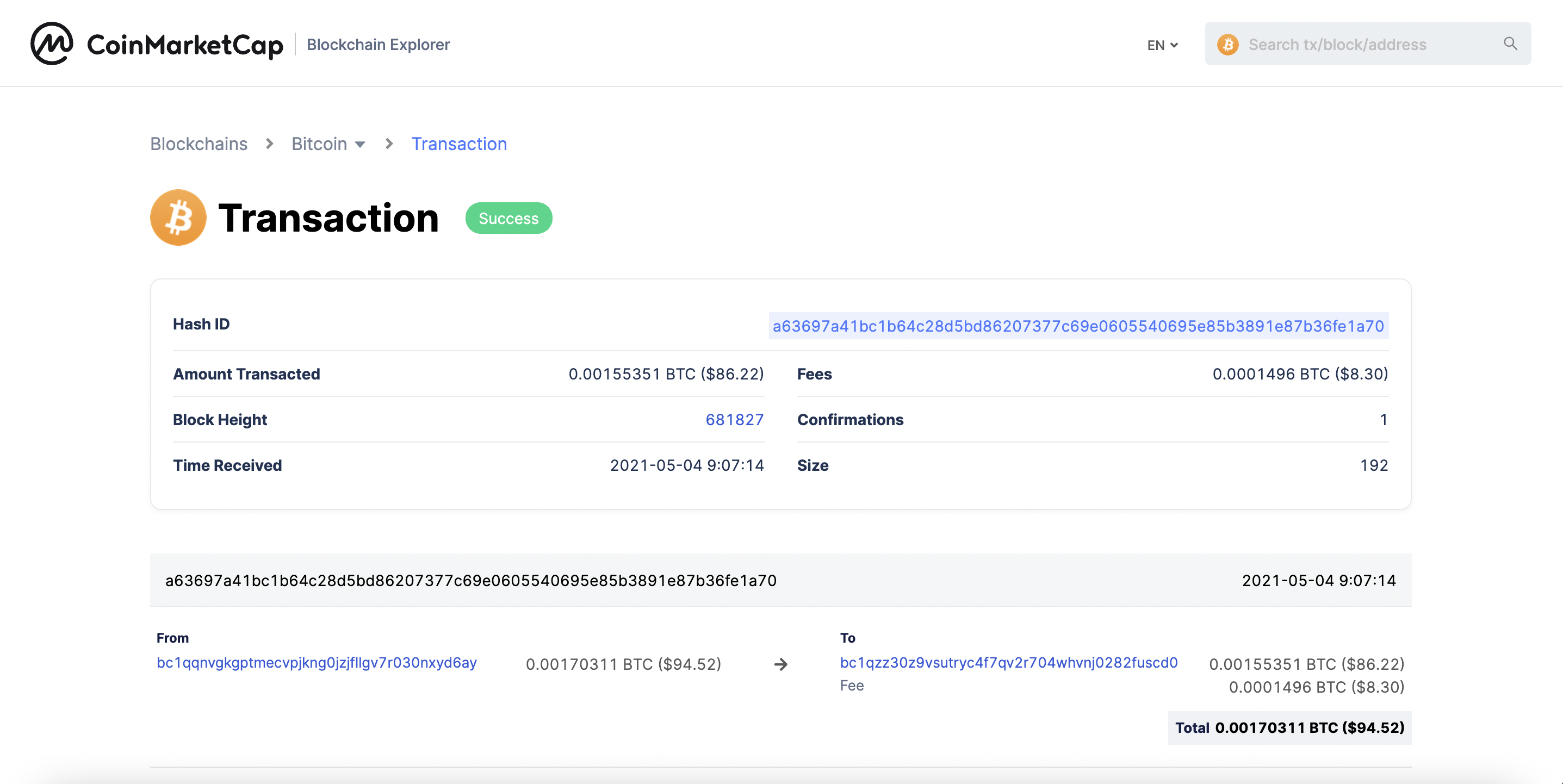 Every coin has its own block explorer and to find a coin's block explorer, CoinMarketCap comes very handy. Just go to Coinmarketcap.com, searching for a coin, and then clicking on "Explorer" to the left. Alternatively, if a coin is not listed on Coinmarketcap, then you should be able to find its block explorer directly from their website, or by Googling "Coin name + block explorer." Beware of deceiving websites, though.
Why use a block explorer?
Block explorers are very useful tool for users who are involved in crypto trading, Defi (Decentralised Finance) and blockchain development.
Crypto traders, who often buy and sell crypto can utilize the block explorer to check on the status of their transactions. Once users initiate a transaction, they will receive an automatically-generated transaction hash and can use it to look up details of the payment and whether it was successful.
Miners, those who validate transactions and earn rewards use the block explorer to confirm significant block activity, especially to check if they have been successful in creating a particular block, which means they receive the block reward.
Other Crypto enthusiasts can track market activities such as the number of Bitcoins in the circulating supply, the market cap, or note the amount of energy required to mine Bitcoin. On the block explorer, they can compare market data alongside of blockchain transactions, which can be seen as the underlying driver for market activity.