Blockchain is the new internet and cryptocurrencies are the new fuel. It is slowly changing the way we use to browse the web, make online transactions, play online games, do internet banking or even buy and sell art collections. And this is just the beginning.
Online trading is one major area where cryptocurrencies are making a lot of buzz. If you are familiar with stock trading then you can easily understand crypto token trading, ICO, etc. As of today, there are more than 9000 cryptocurrencies that exist in the world and there are more than 300 crypto exchanges that are running with a total market capitalization of more than $2 trillion.
Many countries, financial institutions, and businesses are now opening up towards cryptocurrencies in a positive way and these numbers are only going to increase further. We believe many of you would have started your crypto trading journey and constantly looking for various tools and sites to learn about it and find signals so you make the right investment decision. In this article, we have listed down 10 must-have crypto tools for every crypto trader that will help them in day-to-day crypto trading.
1. Coinigy - Crypto Trading Platform
Trading platforms are some of the best crypto trading tools for bringing your trading to the next level by streamlining it. Instead of having multiple windows open to trade across various exchanges, you can now trade on multiple exchanges all from one platform. This can help you take advantage of market opportunities quicker and closely monitor the market better.
Coinigy is arguably the most widely used trading platform in the market. They began in 2014 and have been growing since. They support 45+ exchanges, trading charts, and quality support. 45+ exchange is more than any other platform, which gives a solid advantage to Coinigy users over non-Coinigy users.
They also have historical data which can be purchased and used by developers to experiment with their own trading strategies. It's one of the industry's best crypto trading tools.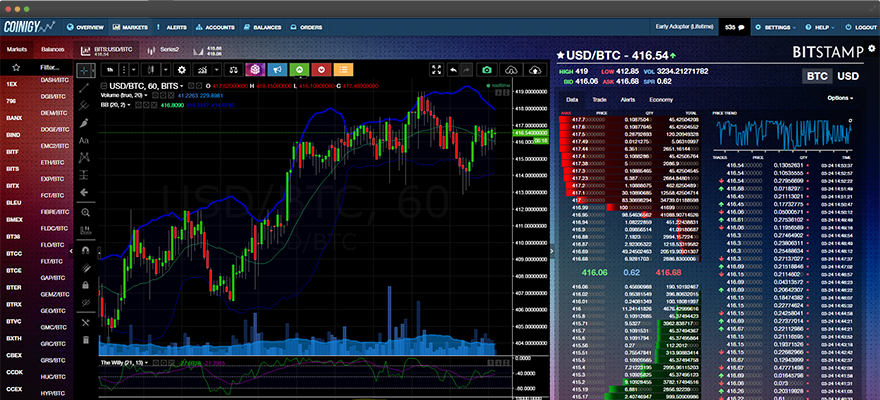 2. TradingView - Crypto Charting Tool
A charting tool is a tool that allows you to visualize different trading indicators and draw trend lines to visualize the market. Practice with these trading indicators and trend lines will ultimately grow your skills in technical analysis (TA) which is what many traders use to stay ahead of the curve. If you are a pro at TA, then you can win big.
Tradingview is a huge company that offers live trading charts for both crypto and stocks. They are one of the largest charting providers, with more technical indicators than you will ever need. They have both free and premium functionalities. All the best traders use Tradingview as their main cryptocurrency tool for charting.
3. CoinMarketCap - Crypto Market Data
It's crucial to find platforms that offer near real-time, accurate information regarding price action, circulating supply, total supply, market cap, and more. The process of drawing in market data requires integrating with various exchanges, normalizing data, and calculating average prices, all while making sure there are no errors. Having an accurate pulse on the market, with accurate data, is a mandatory requisite for becoming a profitable investor or trader.
Coinmarketcap is the most used site in the market for checking prices, volume, and supply of coins. They also provide the best portfolio tracker in the market with real-time price updates from hundreds of exchanges and many other useful tools for beginners as well as advanced crypto traders. They also have a robust API if you wanted to pull in data to your own user interface. It's also helpful to know what everyone else in the market sees.
4. CoinMarketCal - Crypto ICO Calendar
The Crypto calendar is one important tool to keep yourself aware of any ICO, Hard Fork, Airdrop, Swap, or Block Halving that is happening in the market. Rather than relying on news articles to gather all of your information, these trusted calendar services are very useful. They will let you view upcoming events at a quick glance to help you make an important trading decision.
When a coin is halving (like Bitcoin in the first part of 2020), the price increases, or if a hard fork is occurring, there is a chance to get free coins. The point is, all of these events can impact the price of coins or are ways to get free money. So you may as well take advantage. It can turn into big bucks!
CoinMarketCal is one of the best crypto calendars because it will help you buy the rumor and sell the news - this is how many traders make profits. It's a great calendar that shows you upcoming current events on different coins. You can search for your own coin too. Although a similar service is been provided by CoinMarketCap also but CoinMarketCal is better in terms of capturing all events across all cryptocurrencies.
5. BitcoinVisuals - Network Statistics
Network statistics tools help you to see how active the crypto network is and how actively the team is working to develop it. If you see lots of transactional activity on Bitcoin's network, it can be an indicator for future price movement. Understanding how active Bitcoin's network (or any other cryptocurrency's network) is and validating a team's development activity, will give you an edge over most traders.
BitcoinVisuals is a great tool for keeping up with the king of crypto, Bitcoin. It helps you quickly see median fee costs per transactions, hash rate, and see for yourself how the network is doing from a technical perspective. For example if you see fees are down and the amount of miners is increasing, then you may have a good edge to purchase some coin. Also, if you see a news piece that claims Bitcoin is dying, you can go look for yourself.
BitcoinVisuals is only for bitcoin but there are similar tools that provide network stats for other crypto coins as well. Cryptomiso is another tool that ranks cryptocurrencies based on activity on Github.
6. CryptoPanic - Crypto News Aggregator
Multiple blogs, websites, Twitter, Reddit, discord, telegram channels, etc generate and spreads a lot of news on crypto on a daily basis. With hundreds of news sites spewing thousands of articles a day and Twitter influencers spreading contradictory opinions, having a source that can aggregate all of this data in one view will be very helpful for feeling a quick pulse on the market and seeing news laid out in one place.
While there are many crypto news aggregators out there, CryptoPanic is the best one that provides comprehensive news and also allows you to customize your own dashboard for price alerts. It really saves a lot of headaches when it comes to keeping up with big news, you won't regret this one. It's an excellent crypto analysis tool for keep track of crypto news in the market. And not only news aggregation CryptoPanic also provides a portfolio tracker, price alert, and poll to further help you with your crypto trading decisions.
7. Crypto Research Report
Crypto research reports are generally long, in-depth, but highly valuable research documents written by market and domain experts providing fundamental analysis, technical analysis, and opinions on the past, current, and future market.
Crypto Research Report has a quarterly report which goes in-depth. They go through interviews, statistical analysis, fundamental analysis, and the future outlook for the market. Click here for a free example. It's also free to sign up. Gaining a more formal perspective on the market can only give you an advantage.
8. Pionex - Crypto Trading Bots
Crypto trading bots are pieces of software that allow you to set certain parameters defining when the bot should trade on your behalf. Basically, the bot will execute trades automatically on your behalf based on the strategy you create. If you create the right strategy with a reliable bot, you can rake in profits while you sleep. Although many bots are unreliable, Pionex is one that I recommend if you want to try out.
Pionex gives you a total of 12 trading bots options for an automated trading experience and it is a free crypto bot that is built within the Pionex cryptocurrency exchange. Pionex has the best UI/UX for their mobile App among all the crypto trading bot platforms. They always follow the mobile-first rule, which they released the new features on the mobile App before the website. Use Pionex trading bot to auto buy and sell Bitcoin (BTC), Ethereum (ETH), DOGE, and other cryptocurrencies but make sure you read through all the different 12 types of there before getting started with trading bots.
9. Cointracking.info - Crypto Tax Calculator
Tax season is a headache for everyone, but even more so for cryptocurrency traders. Crypto tax calculator helps you organize your trades and tells you how much you owe on taxes in an automated fashion. Though this will vary from country to country and Cointracking has multiple countries covered.
Cointracking.info allows you to import all of your historical transaction data manually or via API. From here, they calculate your performance and can spit out a tax report that you can send right to your accountant.
There's really no other crypto tool like it. It's great for staying organized. Also, besides being a tax tool, Cointracking is an excellent portfolio tracker. It's the most popular one in the industry and makes life so easy.
10. Shrimpy - Crypto Portfolio Rebalancing
Many sophisticated traders take advantage of portfolio rebalancing, as it helps mitigate risk and maintain profit generation. Portfolio rebalancing will automatically buy and sell assets in your assets based on portfolio weight. For example, if you want your Ether holding to always be worth 10% of your portfolio, but Ether rises in price, increasing its worth to 30% of your portfolio, it will automatically sell some Ether to balance out your portfolio. My personal background is in the hedge fund industry, and I can tell you firsthand that even hedge fund managers use rebalancing tools on their portfolios. Traders of all experience levels can take advantage of these rebalancer crypto tools.
It will help protect you from overholding rising assets, to continue generating profit. In our Ether example, most people would not sell their Ether if it became worth 30% of their portfolio from 10%, but with crypto's volatility, this can happen quite often. As it does, you can be shaving profits over and over, while still maintaining a healthy Ether holding making up 10% of your holdings.
Shrimpy is a great FREE rebalance and backtester. This means you can not only rebalance, but also test different strategies via backtesting on major exchanges which they support. They've grown a lot in this bear market, executing over $250,000,000 worth of trades on behalf of client rebalancing.
We hope this guide will greatly help you with your crypto trading experience. Please leave a comment below if you come across some other interesting tool that we have missed in this list. We will keep updating the list with time. There are few other tools like Portfolio Tracker, Block Explorer, Mining tools, and Mining calculator that we have not listed here primarily because traders don't use them very often. We will cover those tools in separate articles.
Also see - 10 best crypto visualisation and charting tools for crypto traders in 2021