Blockchain and cryptocurrencies are rising and making headlines every day. 2021 can be considered the year when this technology really took off with adoption across various domains and countries. Blockchain is not only limited to creating and transacting cryptocurrencies but now with help of new technologies like Ethereum Virtual Machine that allows developers to build smart contracts, the scope of blockchain technology has spread. Developers are now building Defi applications, DApps similar to regular internet-based applications with the advantage that they never go down and will not be under the control of a central authority.
This entire ecosystem and all these new applications are powered by digital tokens that become a reward for those who in turn help run the network. And thus there is a sudden increase in cryptocurrencies. Many people are getting into trading these digital assets on various crypto exchanges. We have already spoken about crypto exchanges and some tools that every crypto trader must know to become better at crypto trading. In this article, we are going to talk about crypto portfolio trackers that help crypto traders in analyzing the market and tracking crypto assets as they grow. A portfolio tracker can make a huge difference even for investors holding crypto long term, not to mention, those trading on a regular basis.
What is a Crypto Portfolio?
A cryptocurrency portfolio is a representation of token investment a trader owns across different types of crypto assets. For example, when a trader owns ten coins and tokens, they collectively comprise their portfolio.
A portfolio reflects the trader's/investor's style, risk tolerance, and key components of their market strategy. Crypto investors normally go for several established currencies in order to hold them and perform a limited activity with them. Alternatively, day traders will have less stability in their portfolio.
A crypto portfolio tracking app connects to a variety of exchanges, wallets, and crypto services where you store or keep your crypto. You can integrate all of your platforms with the portfolio tracker to bring a single view of your entire crypto holdings to one screen.
When all of your portfolio data is in one place, you can make educated decisions on how or when to rebalance, when to take profits, or when to hold, etc. 
How to Build a Cryptocurrency Portfolio?
Building a good crypto portfolio starts with great plan:
Know what you can afford to invest in.
Decide on your trading/investing style.
Determine how you will allocate your funds.
Decide which cluster of the crypto industry to get into.
And when you are ready to make investments, you need to:
Study details relevant to your cryptocurrencies of choice.
Analyze the price-to-earnings ratio.
Assess the total return.
Start purchasing through a crypto exchange.
Then you need to maintain your portfolio. Cryptocurrency portfolio apps and trackers allow you to view your assets in various wallets and on exchanges. Even though you can manage to monitor your assets by visiting your wallet and exchanges directly, it can be a hassle. So, if you want to avoid unnecessary actions, cryptocurrency wallets with a tracker or a platform with wallet synchronization can save a lot of time and effort.
Top 5 cryptocurrency portfolio tracker in 2021
Below are top 5 portfolio trackers in 2021 with a deep dive into their functionality so you can get insights into which ones would best fit your needs -
1. Delta App
Delta app is one of the most popular crypto portfolio tracking apps with more than 1.5M+ app installs across different platforms. It is predominantly a mobile app, supporting both Android and iOS. There are also desktop clients for Windows, Mac, and Linux. Delta app has proven itself as the leading crypto portfolio tracking and management app in the market.
Delta app not only provides you with crypto portfolio tracking but you have the ability to track other investment assets, such as stocks, ETFs, indices, forex, mutual funds, bonds, futures, and options all in one app. Delta App has integration to more than 300 exchanges and wallets. These integrations allow you to seamlessly connect your exchanges directly to Delta.
Main features of Delta App include but not limited to -
8000+ coin to track
Charts with crypto asset analysis, volume, market cap, etc.
Separate portfolio tracking feature and a watchlist
Advanced price action alerts for both trading pairs and single coins
Delta Direct – a convenient communication tool for crypto projects
Integration with Medium, Steemit, RSS blog, and Twitter channels
Account Recovery – restoring the app to the last known state using generated dynamic recovery code.
You can download Delta App for iOS or Android completely free and start tracking your crypto portfolio. It also has a Pro option, which is $60-80, and gives you access to some of the below additional functionalities -
Creating and managing up to 10 different portfolios
Unlimited number of exchanges
Syncing data with up to five devices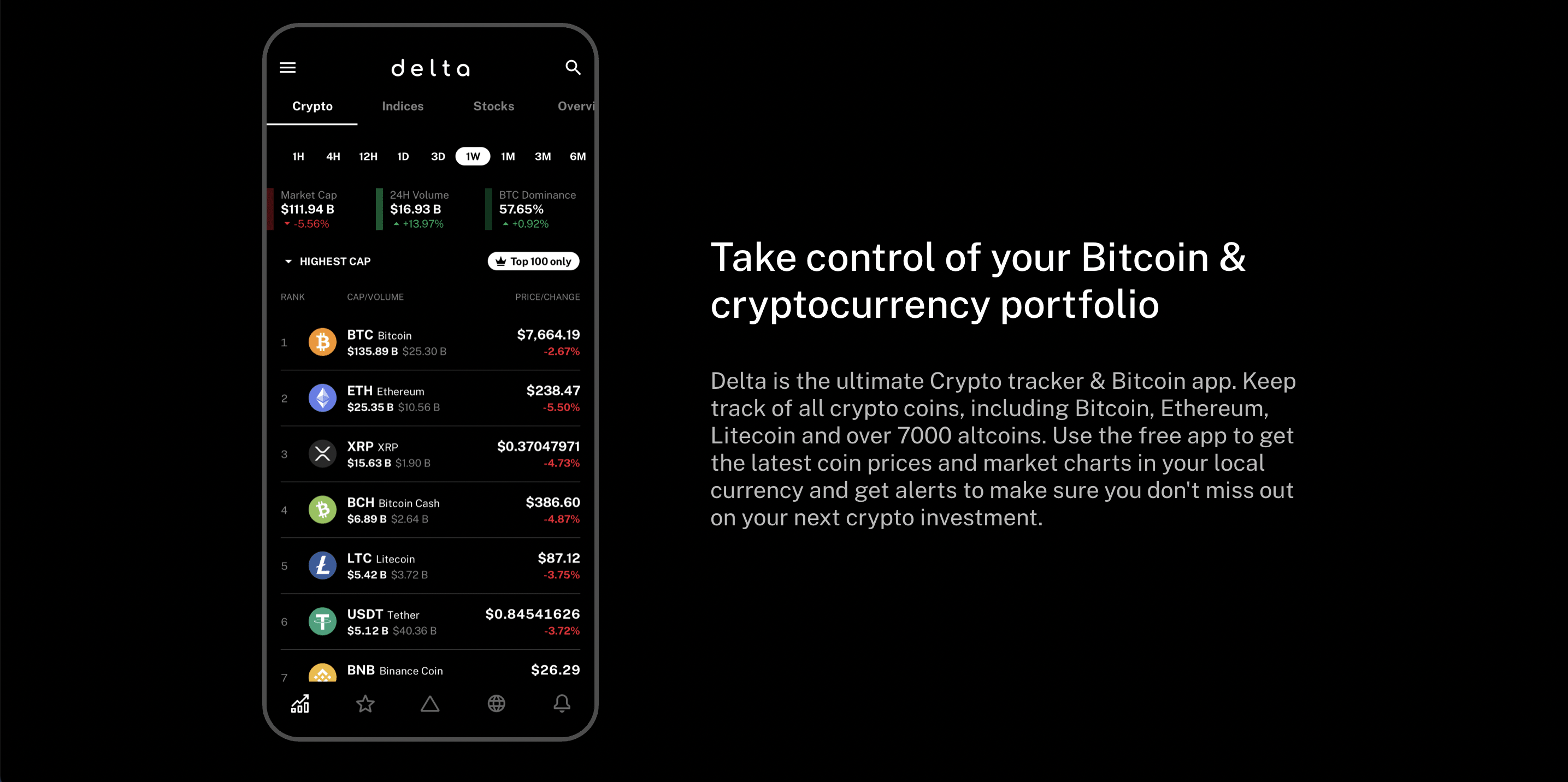 2. Blockfolio
Blockfolio is one of the oldest crypto portfolio tracker apps that is available in the market since 2017 and it has over 5 million app downloads. There are 400+ teams on Blockfolio's Signal, including teams and leaders from Monero, DASH, NEO, Ethereum, NEM, ZCash, 0x, etc.
Blockfolio has a very intuitive design and interface and available only on iOS and android platforms with no web presence. Blockfolio takes a user-first approach and is committed to providing the best products to help the advancement of the decentralized movement and ecosystem.
Blockfolio believes that market data and information should be freely available for the benefit of the ecosystem and hence they are committed to always providing their services 100% free of charge to end-users.
Blockfolio is been acquired by FTX in August 2020 and has recently announced that with this partnership, they intend to launch a new trading platform to strengthen the product and user base on the platform.
Blockfolio provides following set of notable features -
8000+ coins to track
Real-time Blockfolio Signal updates and pricing into Slack groups
Multiple portfolios divided into separate categories
Notification alerts on price levels
Automatic updates between your portfolio and crypto exchanges
Secret PIN for better security
Data recovery and transfer if a device gets replaced or stolen
Latest crypto news feed from social media and crypto publications
Customizable explore section
3. CryptoCompare
CryptoCompare is more than just a portfolio tracker. It is more of an entire ecosystem for cryptocurrency. For example, there's a section that describes and compares different cryptocurrency wallets, and one which provides information about the mining of cryptocurrencies. There is also a news section keeping users up-to-date about all major occurrences in the crypto world. The portfolio management tool is just one of the many components of this ecosystem.
CryptoCompare is fully cloud-based and has a presence on Web, iOS, and Android platforms. The CryptoCompare UI is not so great and looks a little old-timey. Users can create an account and add multiple portfolios to it. Data added to the account is stored in the cloud. So you don't end up losing your data even if your phone goes missing. There's also the option to make your portfolio public for others to see.
The Android and iOS apps are curtailed but handy extensions of what you get on the website. Once you have entered coins and their purchase price, CryptoCompare calculates data such as realized profit or loss, total revenue, and your pending taxes (through a fairly basic tax calculator).
There's also a Risk Analyzer, which analyses the price action of your holdings and provides you with insights, such as how volatile the portfolio is or how easy it is to liquidate the assets. Simple documentation is provided explaining all the available features.
In addition to the analysis tools, there are some fun features as well. Such as a list of public portfolios available for general viewing, and an ICO tracker which tracks some of the popular ICOs from their date of inception. There's also a live feed from top exchanges which shows you how the listed tokens have been performing. Another simple but interesting feature of Cryptocompare is that it tells you how much of your crypto is held in exchanges and how much in wallets. A constant (and necessary) warning to people relying solely on exchanges to store their assets, if you ask us. One big disadvantage of CryptoCompare is that there is no exchange API sync capability to import trades from exchanges directly. All trades need to be added manually, which is a pain point for active portfolio holders.
The platform's most notable features are -
5300+ coins to track
Cloud-based platform
Management of multiple portfolios
Options to make portfolio public or private
Risk analysis feature
ICO tracker and timeline function
Shows realized profit/loss and total revenue
Possibility of adding notes
4. CoinTracking
CoinTraking is far more than just a portfolio tracker. CoinTracking makes sure you make an informed decision by offering a range of features and services. CoinTracking analyzes your trades and generates real-time reports on profit and loss, the value of your coins realized and unrealized gains, reports for taxes, and much more.
CoinTracking has more than 840K active users on its platform with more than 1200 CPAs and corporate clients. CoinTracking hosts 12 years of historical crypto trade data and has more than 10,000 coins that you can track on this platform.
CoinTracking is aimed at the more serious cryptocurrency investors and full-time traders who want something more than just a spreadsheet displaying their portfolio. The CoinTracking app is available for both Android and iOS, but registration has to be done on their website first. Moreover, all trades have to be entered through their website which, frankly, is a little annoying. The app simply redirects you back to their website when you try to enter any trade through it. It seems like the mobile apps mostly for viewing your portfolio but you can't make any changes from mobile.
The interface is a little dated but non-gimmicky. You can import all your trades from major exchanges simply by importing the .csv files with trade details. CoinTracking also allows interaction with major exchanges using API keys to import the latest portfolio and trading data. There's also an option to import data from hardware wallets like Trezor and software wallets like Exodus or Blockchain.info.
There's also a Tax Computation tool, which is available for most countries as per their help page. Here, you can create tax reports, generate profit/loss sheets, and even find out which coins can be sold free of tax at a given date.
Comprehensive documentation is provided for using the various features. Moreover, there is a host of YouTube videos that guide you through the various functionalities and explain how to use them. You can check out the CoinTracking tutorial videos on their official channel.
Major features of CoinTracking app are -
Interactive charts for trades and coins
Connection to popular exchanges using API
Realized and unrealized gain/loss
Tax calculator with 12 methods
View of historical price data from the last 10 years
Eight supported wallet imports
Real-time trade profitability and set price alerts
There is also an experimental price prediction feature, which may prove to be very useful in the future. But it is too early to tell how accurate they are.
5. CoinMarketCap
CoinMarketCap is much more than just a crypto portfolio tracker. CoinMarketCap is the world's most-referenced price-tracking website for crypto-assets in the rapidly growing cryptocurrency space. Its mission is to make crypto discoverable and efficient globally by empowering retail users with unbiased, high-quality, and accurate information for drawing their own informed conclusions.
Founded by Brandon Chez in May 2013, CoinMarketCap has quickly grown to become the most trusted source by users, institutions, and media for comparing thousands of crypto-assets and is commonly cited by CNBC, Bloomberg, and other major news outlets. (Even the U.S. government uses CoinMarketCap's data for research and reports!)
In April 2020, CoinMarketCap was acquired by Binance Capital Mgmt. Binance is the global blockchain company behind the world's largest digital asset exchange by trading volume and users, which shares the common vision of making crypto accessible and systemically important to people all around the world.
CoinMarketCap is available on all platforms web, iOS, and Android, and offers a bunch of very important tools for crypto traders like Market/Price ticker, Crypto Portfolio Tracker, Blockchain Explorer, Crypto API, Crypto indices, and much more. However, if you only talk about portfolio trackers, then CoinMarketCap has a very basic portfolio manager where you have to add coins manually. CoinMarketCap is well known for its high quality and accurate crypto price-tracking.
Major features of CoinMarketCap app are -
Most accurate and real-time price-tracking for more than 9000 crypto assets
300+ exchange integration
Global charts, ranking, and crypto indices
Interactive charts for trades and coins
Connection to popular exchanges using API
Realized and unrealized gain/loss
View of historical price data from the last 10 years
Real-time trade profitability and set price alerts
Developer APIs and other utility tools