Similar to the stock exchange, a cryptocurrency exchange works with a focus on cryptocurrency tokens. In crypto market there are three types of crypto exchanges which are centralized, decentralized & hybrid crypto exchanges used maximally. On the crypto exchange platforms, crypto tokens are traded just like stock trades on the stock market exchange. As the name suggests cryptocurrency exchange is a platform where people exchange their fiat money with cryptocurrencies and vice versa. It is a web service platform to cater to investors for investing purposes.
Also, most cryptocurrency exchanges provide services to exchange one crypto token for another. On an essential note, a cryptocurrency exchange offers a stage where customers can buy, sell, trade, and swap their digital assets based on current market values. Just like on the stock exchange, the price of crypto tokens on cryptocurrency exchange platforms keeps changing for many potential reasons.
Normally, transactions or trading take place on such exchange platforms in two different ways. This includes native fiat currency-to-cryptocurrency transaction; and cryptocurrency-to-cryptocurrency transactions. The main aim of cryptocurrency exchange platforms is to provide the best competitive pricing of tokens and an easy professional trading mechanism to their customers.
According to Forbes, there are around 600 cryptocurrency exchanges throughout the world that provide trading services. These exchanges have a large customer base and most of them operate in more than one country. They not only provide trading among popular crypto tokens like Bitcoin, Ethereum, and other digital assets but also offer their best financial tools for more secure and safe trade practices.
To talk more about cryptocurrency exchanges, there are primarily three different types of exchanges in the market.
Centralized Crypto Exchange
Decentralized Crypto Exchange
Hybrid Crypto Exchange
Let us know more about these crypto exchanges in detail.
Also read: What is a crypto faucet and why you must know it?
Types of Crypto Exchanges
1. Centralized Crypto Exchange(CEX)
The cryptocurrency exchange platforms that are complaint from a regulatory point of view and act as a third party between the seller and the buyer are recognized as 'centralized crypto exchanges. Almost all cryptocurrency exchanges are centralized. Some of them include the largest cryptocurrency exchanges in the world that are Coinbase, Binance, Huobi Global, and many more.
However, these exchange platforms must be approved by the central authorities like the Securities and Exchange Commission (SEC) of the U.S to operate in the country. There are certain regulations implied by the governments on centralized crypto exchanges to offer their services. And therefore, many governments charge hefty fees and numerous amount of charges before approving them to be operational completely.
The centralized exchanges offer a friendly way of trading and investing in cryptocurrencies. The users of the centralized exchanges can create an account through which they can perform trading using their crypto wallets. These exchanges are available on websites and can be used through mobile-based applications also.
Many centralized crypto exchanges propose to provide an extreme layer of security and authentic means of trading. Customers tend to move towards those exchange platforms that offer maximum security, fast transactions, lower transaction fees, and a higher level of transparency. Such exchanges are responsible for holding their customer's assets and thus are known as custodians to a larger fraction of the population.
The centralized crypto exchange holds billions of dollars worth of cryptocurrencies on behalf of its customers. Hence, they can be an easy target for hackers and phishing attackers. To avoid hacks and scamming the crypto exchanges have to update their safety protocols at a regular interval. Also, they implement a two-way verification system for customers to login into their accounts. Some of the crypto exchanges also utilize pre-hot and pre-cold wallets to maximize the level of security of assets.
Forbes has recently analyzed in March 2022 and they have accumulated the top ten globally ranked centralized crypto exchange platforms based on several aspects.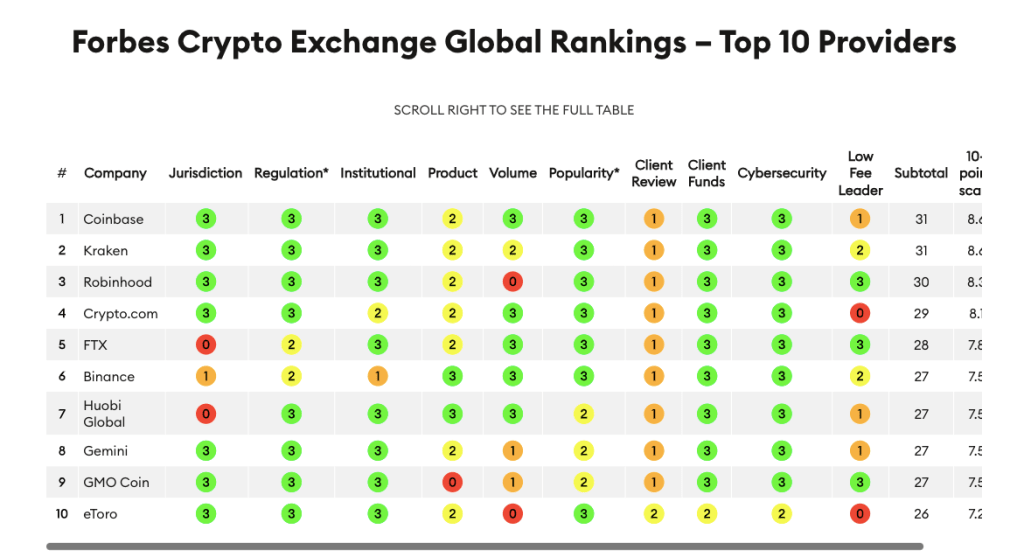 Also read: What is bitcoin cash and how it is different from bitcoin?
2. Decentralized Crypto Exchange (DEX)
Decentralized crypto exchanges or DEX facilitate peer-to-peer transactions. The users are not required to transfer their assets to a third-party platform. Unlike a centralized crypto exchange, DEX does not require its users to fill out know-you-customer (KYC) forms or ask for personal information. Being a decentralized platform, the risk of attacks and hacks becomes potentially null giving users assured safety and a prominent level of security.
For all the transactions, security, and safety, decentralized crypto exchanges have smart contracts that keep the track of everything. Smart contracts are the encoded programs in the blockchain that neither can be changed nor evoked from the blockchain. They tend to automate the transaction protocol and execute and control relevant events within the blockchain ecosystem.
To use the decentralized exchange platform users must remember their security keys and passwords for which they can't be saved on the system, unlike other wallets or accounts. These security keys are the way for in and out of the account for the users. If you ever lose or forget the passwords, your virtual digital assets might be lost forever. however, an easy way to remember such security phrases and passwords is to write them down physically can keep them somewhere safe where you can remember and recover them.
Using DEX might not be convenient for beginners and generally prove more useful for experienced traders and experts. Also, DEX does not have any customer support to call for help and some of them do not have user-friendly processes.
Decentralized exchange platforms face low volumes and liquidity because they are not very popular at present. As said earlier, they are useful for experienced and expert traders. Also, they do not allow the trading of fiat currencies for digital assets and therefore many individual users who do not own cryptocurrencies find it less convenient. The sellers may find it hard to have buyers while trading due to a lack of liquidity.
According to CoinMarketCap the top ten decentralized cryptocurrency exchanges by traffic, trading volume, and market share percentage have been listed below:
Uniswap (V2)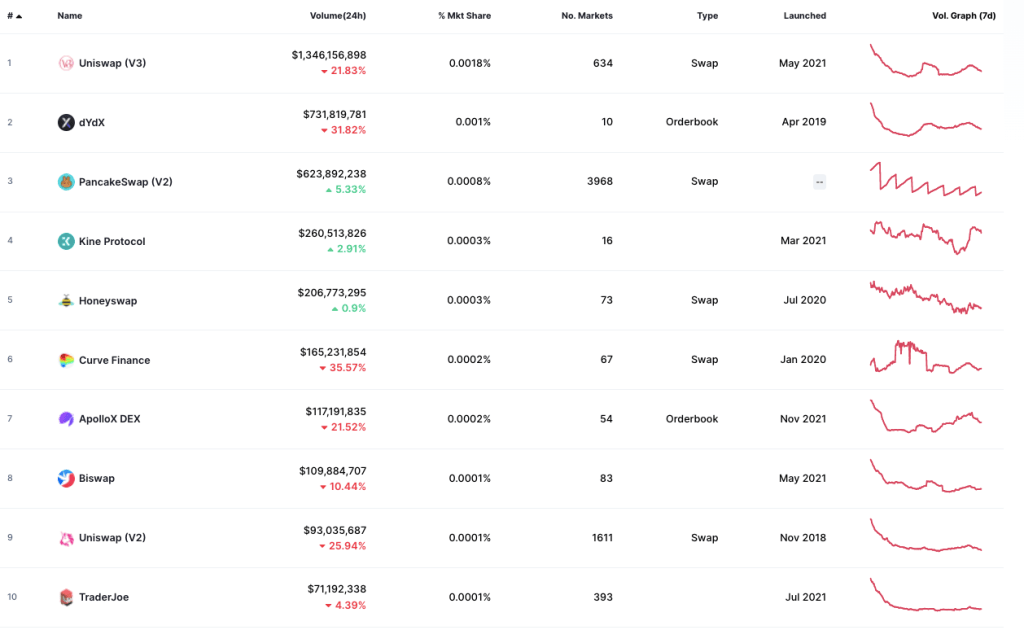 Also read: Beginners' guide to Decentralized Finance (DeFi) and its applications
3. Hybrid Crypto Exchange (HEX)
Hybrid Crypto Exchanges are a combination of CEX and DEX and are designed to conquer their defects and limitations of them. These exchange platforms bear the best features of both centralized and decentralized exchanges. They were mapped out to overcome the shortcomings of the two exchanges.
Many of the CEX platforms charge high transaction fees and store the assets on hot wallets which are highly vulnerable to hackers and scammers. On the other hand, DEX platforms may process the transactions quite slowly due to which the investors might not be able to leverage the volatile pricing of cryptocurrencies.
But some of the enticing features of hybrid crypto exchange that makes them different from other exchange platforms include:
Escrow Method that takes care of the stability of crypto funds,
flawless transaction execution with top-grade authentication is a highly secure environment,
The atomic swap exchange feature allows traders to directly swap the cryptocurrencies without involving third parties.
Moreover, on a hybrid crypto exchange platform users can access their private security keys and trade several transactions at the same time with good scalability. The digital assets are stored in cold storage instead of hot wallets which makes them safe from hackers and cyber-attacks.
Further, the investors are also spared from high transaction fees, gas fees, or taker fees. While still there are not many applications providing hybrid exchange facilities as many of them are still in the test phase. But crypto experts along with web developers are working for HEX to create a new generation cryptocurrency exchange.
The first Hybrid crypto exchange was Qurrex launched in 2018. Qurrex had the significant potential in providing benefits of both centralized and decentralized exchange platforms. Other hybrid applications are Eidoo and Legalos which provides full access to a decentralized ecosystem.